Meet our Doctor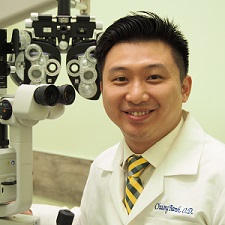 Chuong Banh, O.D.
Dr. Banh grew up in San Francisco, CA. After graduating from Lowell High School, he attended the University of California, Davis and graduated with a Bachelor of Science degree in Neurobiology, Physiology, & Behavior (NPB). His fascination of all things eye-related and passion for helping others inspired him to pursue optometry as a career. He completed his Doctorate of Optometry at the Southern California College of Optometry in Fullerton, CA.

Proudly practicing in Silicon Valley since 2007, Dr. Banh started C.Sharp Optometry in 2015 with the focus of providing personalized eye care in a modern setting. He is delighted to serve his community with his brand of ocular expertise and outstanding customer service.

In his spare time Dr. Banh enjoys rooting for his beloved Oakland A's, San Francisco 49ers, and Golden State Warriors. He also enjoys bowling, appreciates delicious food, and stays active with his energetic rescue terrier Boombi.
Optician and Staff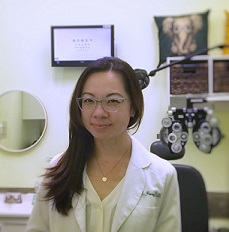 Veronica Corona
Veronica has been in the optical industry for over 10 years. She enjoys helping our patients select the perfect eyewear to enhance their look and lifestyle. Her goal is to make our patients feel ecstatic when selecting and picking up their new eyewear. Her optical experience allows her to help patients understand which frame and lens options will work best for their visual needs. She also manages our office, making sure everything is processed quickly and smoothly.

In her free time Veronica enjoys immersing herself in a great book, movie or TV series (her favorites include Game of Thrones, The Walking Dead, Breaking Bad, and Lost). She also enjoys spending time with her family and her rescue terrier Charlie.